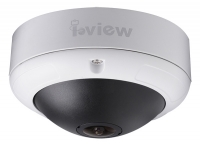 FE-5MIPN 5-Megapixels IR Vandal Proof Dome IP Camera
  Технически параметри:
 Specification

 System

 Platform

  TI DM368 SoC CPU; 128MB Flash; 256MB RAM and Linux 2.6 Embedded O.S.

 Power

  DC12V; Maximum 3W; PoE IEEE 802.3af Class3. 
 Image Device

 Chipset

  1/2.5" 5-Megapixels (2592×1920) progressive CMOS sensor.
 Network

 Protocol

  HTTP, HTTPS, TCP/ IP, IPv4, IPv6, UDP, SMTP, FTP, DHCP, DDNS, NTP, DNS,
  SNMP, RTSP, RTP/RTCP, Bonjour, PPPoE, QoS, UPnP, Multicast.

 Interface

  10BASE-T/100 BASE-TX.

 Compatible

  Onvif compliant.
 Surge Protector (Optional)

 Video

  Peak Inverse Blocking Voltage: VPIB= 100V; Peak Pulse Current: Ipp=44A;
  Clamping Voltage: 10V @ Ipp= 5A.

 Power

  Maximum Energy: 3.6J @10/1000μs; Clamping Voltage: 16.8KA(1 Time) /      
  8.4KA(2 Times) @8/20μs (1 Time); Insulation Resistance:ĄŲ10000MΩ.

 Security

  Password Protection, Https encryption data transmission, User access log;
  IP address filtering, Multi-level user access with password protection;
  802.1X port-based authentication for network protection.
 Management

 Time management

  Manual Time Setting; Time Server and NTP support; Real Time Clock

 Event management

  Event notification using FTP, SMTP, Samba server or Alarm output triggered.

 Update

  Support Firmware update.

 Browse

  Internet Explorer 6.0 above; None IE Browser (M-JPEG server push,
  QuickTime plug-in for MPEG4/H.264).
 Video Setting

 Compression

  Video: 0.5M ~ 12M bits/sec (CBR/VBR/CVBR configurable) H.264 MP/BP,          
  MPEG-4, M-JPEG.

 Resolution: Main Stream

  2592×1920, 2048×1536, 1920×1080, 1280×720.

 Resolution: Sub Stream

  320×288, 320×240.

 Frame Rate

  5-Mega: 10 fps; 3-Mega: 17 fps; 1080p: 30 fps @ H.264/MPEG4/M JPEG,
  Mode and frame rate can be adjustable

 Streaming 

  H.264/MPEG 4/MJPEG/3GPP multi video stream.

 Control

  Video parameters adjustment, Motion detection, Mirror, Privacy mask,
  AES/AWB/AGC/BLC support, and Auto/DC-Drive IRIS.

 Color

  0.5 Lux /F1.2 B/W: 0.3 Lux.

 Overlay

  Text / Time Stamp / Watermark overlay on video clips.

 D-WDR

  70dB.

 I/O Port

  Alarm out x1*; Alarm in x1*; Audio in x1*; Audio out x1*; RS-485; TV out;
  Micro SD/SDHC for on board storage*; RJ-45
  (Green/orange LED indicates linking status).
 Lens & IR Illuminators
 Lens
  f=1.05 mm/ F2.8.
 Field of View
  180° (horizontal)/ 180° (vertical)/180° (diagonal).
 IR Cut
  Built in removable IR-cut filter for day & night function.
 Storage
  Micro SD for on-board storage; Support Pre-recording and Post recording*;
  Backup/Restore to device configuration file; Upload data to FTP/SMTP/
  Samba Server.
 Housing
  Vandal-proof IK10-rated Aluminum housing, IP65 waterproof (optional)
 Dimension/Weight 
  Ø 110mm x 65 mm (H) / 0.38 Kg
 Operation
 Power
  DC12V±10%; Maximum 4W
 Temperature
  -20°C ~ 50°C; Humidity 20% ~ 80% RH.
 Accessories
  Support Wall mount & Ceiling mount Bracket (Optional)
  Note:
  * Only available on Full Function.