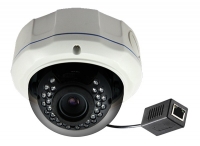 DM-650IR-F0312
   Технически характеристики:
 Specification
 Image Device 
 Image Device
 1/3" SONY EXview HAD CCD II (Effio-E)
 Effective Picture Elements
 PAL: 1024(H)x596(V);   NTSC: 1028(H)x508(V)
 Video
 Horizontal Resolution 
 Color: 650TVL,   B/W: 700TVL
 Video System
 NTSC/PAL (Optional)
 Video Output
 1Vp-p output with RJ-45 connector; BNC connector type (Option)
 Video Characteristic
 Gamma Characteristic
 0.45
 Sync. System
 Internal
 S/N Ratio
 More than 50dB (AGC Off)
 Shutter Speed Control
 AUTO (1/50(60) ~ 1/100,000 sec.)
 Wide Dynamic Range
 ATR Digital WD (ATR: Adaptive Tone-curve Reproduction)
 OSD Menu Setting
 Flicker Less
 ON / OFF
 Gain Control
 Auto (4 steps)
 Dynamic Noise Reduction
 2D
 Motion Detectio
 ON / OFF  (24x16 Zones)
 Day/Night Mode
 Color / B&W / AUTO / Ext.
 Back Light Compensation
 HLC / BLC / OFF
 Privacy Mask
 ON / OFF  (8 programmable mosaic zones)
 Control Parameters
 Menu OSD (With an optional OSD cable control)
 White Balance
 ATW / PUSH / USER define / ANTI CR / MANUAL / PUSH LOCK
Surge Protector
 Video
 Peak Inverse Blocking Voltage: VPIB= 100V; Peak Pulse Current: Ipp=44A;
 Clamping Voltage: 10V @ Ipp= 5A
 Power
 Maximum Energy: 3.6J @10/1000μs; Clamping Voltage: 16.8KA(1 Time)
 /8.4KA(2Times) @8/20μs (1 Time); Insulation Resistance:≧10000MΩ
Lens & IR Illuminators
 Lens
 2.8-12 mm Vari-focus Lens
 Infrared Luminary
 30pieces 12µ 850nm effective up to 25 meters distance for
 day & night application
 Illumination
 Minimum Illumination
 Color: 0.03Lux@F1.0,   
 B/W: 0 Lux (IR LED on)
 Transmission Distance
 Transmit Video / Power up to 300 meters via Cat. 5 or better UTP cable
 Housing
 Vandal resistant housing with 3-Axis bracket
 Dimension/Weight
 Ø101mm x 101 mm (H) / 0.82Kg
 Operation
 Power Consumption
 IR ON: DC 24V/150mA max, IR OFF: DC 24V/25mA.
 Operation
 Temperature -10°C ~ 50°C; Humidity 20% ~ 80% RH
  Note:
  Product specifications are subject to change without notice.