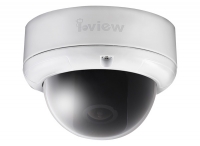 DM-2MIPN 1.3-Megapixels Dome IP Camera
   Технически характеристики:
DM-2MIPN Series
Specification
System
Platform
 TI DM365 SoC CPU; Linux Embedded O.S.
Image Device
 1/3" 1.3 M pixels (1280x 960 pixels) progressive CMOS sensor.
Video Setting
Compression:
 Video: 0.1M ~ 8M bits/sec (CBR/VBR/LBR configurable) H.264 HP/MP/BP,
 M-JPEG;
 Audio: G.711μ-low/a-low Codec
Resolution:
 Main Streaming: 1920 x1080 (Software enhance), 1280×960, 1280×720. 
 Sub streaming: 320×288, 320×240
Frame Rate:
 2-Mega: 20 fps (Software enhance);
 1.3Mega: 30 fps @ H.264/M-JPEG Mode;
 Frame rate can be adjustable by user.
Streaming:
 Multi-Stream H.264 Base/Main/High Profile and Motion JPEG video streaming
Control:
 Brightness, Contrast, Saturation, Sharpness, Exposure, Motion detection,
 Mirror, Shutter, Privacy mask, Flickerless, Noise reduction, IRIS, AES, AWB,
 AGC, BLC, D-WDR, ROI, Audio gain, Alarm in/out
Color:
 0.1 Lux 1/F1.2  B/W: 0.05 Lux
D-WDR:
 83.5dB
Overlay:
 Text / Time Stamp
Audio Setting
 μ-Low/ a-Low G.711 audio encoding and decoding; 2-way audio.
 External Microphone input; Speaker output.
 2Vp-p audio input and audio output with 600Ω impedance.
Network
Protocol:
 HTTP, HTTPS, TCP/ IP, IPv4, IPv6, UDP, SMTP, FTP, DHCP, DDNS, NTP, DNS,
 SNMP, RTSP, RTP/RTCP, Bonjour, PPPoE, QoS, UPnP, IGMP; uPnP and 802.1x
Interface:
10BASE-T/100 BASE-TX; Wi-Fi (Via USB optional)
Compatible:
Onvif compliant
I/O Port
Audio in (2Vp-p); Audio out (30mW/600Ω);
Alarm in x1; Alarm out x1, DC in, RJ-45 ( LED indicates power /linking status).
Surge Protector
Video:
 Peak Inverse Blocking Voltage: VPIB= 100V; Peak Pulse Current: Ipp=44A;
 Clamping Voltage: 10V @ Ipp= 5A.
Power:
 Maximum Energy: 3.6J @10/1000μs; Clamping Voltage: 16.8KA(1-Time)
 /8.4KA(2-Times) @8/20μs (1 Time); Insulation Resistance:≧10000MΩ.
Lens & IR Cut
Lens:
 f= 4mm; 6mm, 8mm, 12mm/ F1.8 (Optional) (DM-2MIPN-F04/06/08/12)
IR Cut:
 Built on removable IR-cut filter for day & night function
Storage
 Micro SD slot for SD/SDHC card storage; Support Pre-recording and Post recording;
 Network failed start recording on SD card, Backup/Restore to device configuration file, Backup,
 Upload data to FTP/SMTP sever.
Management
Time management:
 Manual Time Setting; Time Server and NTP support; Real Time Clock.
Event management:
 Events triggered by motion detection or sensor configured by schedule.
Event notification:
 Notify to FTP, email, Samba server or Digital output triggered.
Update:
 Support Firmware update.
Browse:
 I.E. 7.0 above; Safair Browser and Chrome V3.0 above with plug in.
Housing:
 Vandal resistant and 3-Axis bracket design.
Dimension/Weight
 ø117mm x 92 mm (H) / 0.35Kg
Operation
Power:
 Maximum 2.5 W; PoE IEEE 802.3af Class 3; DV12V
Temperature:
 Temperature -10°C ~ 50°C; Humidity 20% ~ 80% RH.
   Note:
    *  Only available on Full Function.